Exploring Komodoty's Protective Phone Case Range
As the dedicated owner of Komodoty, I am thrilled to guide you through our diverse range of phone cases, all expertly designed with an excellent balance of style, protection, and sustainability. Our primary objective goes beyond creating good-looking, hard-wearing cases – we are steadfastly committed to environmental friendliness and cruelty-free practices.
Let's delve into our distinct collections:
Komodo Series
Our Komodo cases are the epitome of minimalist design. Each case, only 0.8mm thick, incorporates a Kevlar layer between two wood slices, delivering formidable protection while preserving the natural charm of wood. Each case is truly unique, with individual grain patterns and textures.
Blanc Vegan Leather cases offer a premium and luxurious experience, carefully designed to resemble real leather while embracing the ethics of cruelty-free materials. Crafted with utmost attention to detail, these cases feature a velvety soft texture and a microfiber interior to protect your device flawlessly. The precise cut-outs ensure easy access to all buttons and ports, providing a seamless user experience. Moreover, the absence of any animal-derived materials means there is no lingering "game-y" scent, replaced instead by a pleasant aroma that adds to the overall appeal. Choosing a Blanc Vegan Leather case allows you to protect your device with a guilt-free conscience, knowing no animals were harmed in its creation.
Our Amazonia Series seamlessly integrates solidity and visual appeal. Encased in a premium North American Walnut wood exterior, these cases feature a shock-absorbing TPE bumper capable of enduring drops from 1.5 metres. Each piece, with its unique wood grain and colour, encapsulates the authentic beauty of nature. Plus, they are fully compatible with MagSafe accessories, allowing for smooth and functional use.
Alpine Cases
Designed for unwavering daily protection, our Alpine Bumper Cases feature a chic frosted matte back fused with a shock-resistant bumper. These cases provide excellent defence against wear and tear, ensuring that your device remains safe without sacrificing style, all while offering enhanced protection for your camera and screen.
The Saguaro Series presents the luxurious Alcantara material, imported from Italy. Our unique 'Blurple' variant, a blend of blue and purple hues, suits diverse phone models. Esteemed in luxury automotive interiors like Lamborghini, Ferrari, and Aston Martin, Alcantara offers a plush, tactile experience, durability, and style. It's also preferred for plush yacht furnishings. Stain-resistant Alcantara ensures long-lasting appeal and durability of your phone case. This opulent fabric withstands regular wear, yet remains easy to clean. The Saguaro Series is a harmonious blend of aesthetics, resilience, and functionality.

Introducing the Volaris Series - a testament to advanced technology and superior protection. Our cases are expertly crafted with Aramid fibre, celebrated for its extraordinary durability, lightweight nature, and use in body armour production. Precision laser-cutting ensures a perfect fit for your device. Choosing Volaris means investing in longevity, robust defence, and sophisticated style. More than just protection, Volaris enhances your device's aesthetic while providing a resilient shield. Experience the seamless fusion of cutting-edge technology and everyday convenience with Volaris, showcasing our commitment to design and functional excellence.
The Sequoia Series comprises ultra-thin fabric cases, tailor-made for a smart, professional look. Despite their streamlined design, these cases maintain full functionality for all buttons and charging ports and support wireless charging. Their upgraded texture gives a pleasing tactile sensation and ensures a secure grip to help prevent accidental drops.
While our cases significantly bolster the protection of your device, it's essential to remember that no case can provide absolute invincibility. Regular care is paramount to prolonging the lifespan of your device.
Every Komodoty case is carefully constructed to rival the quality of top-tier brands. However, we bring a key difference to the table – we leave our cases logo-free on the back, letting the material and your style take centre stage. Because believe you should be able to enjoy the style and feel of the material. After all, it's not about being a billboard for a brand, but about choosing a style that represents you!
Our environmental commitment extends to our packaging too. The majority of our packaging is either biodegradable or made from recycled materials. Furthermore, with every order, we plant a tree - it's our way of contributing to a greener future.
We continually strive to enhance our products, and your feedback plays a crucial role in this process. We're excited to announce that we are working on some thrilling improvements, so stay tuned for more!
Thank you for joining me on this exploration of our unique phone case collections. Here's to finding a case that not only provides robust protection for your device, but also reflects your personal style and commitment to the environment.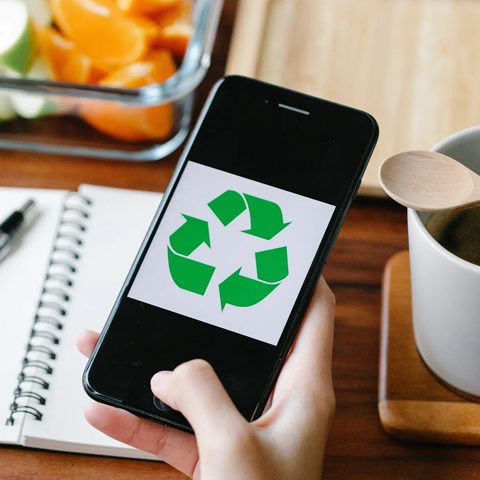 Ethical Disposal of Old Cell Phones
In an age dominated by cell phones, disposing of them responsibly is paramount for environmental sustainability. As e-waste is projected to skyrocket to 120 million tons annually by 2050, ethical d...
Read more